SCOPE Career Talk Event 28/10/2019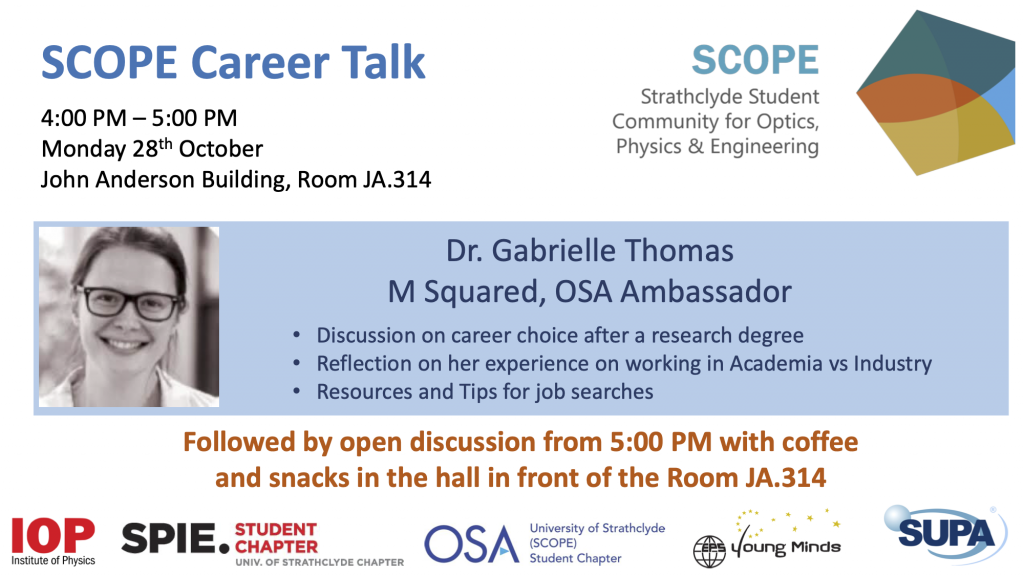 Hello everyone ?
There will be an upcoming SCOPE career event this Monday 28th October from 4-5pm in JA.314. Put it in your calendars!
Our invited speaker will be Dr Gabrielle Thomas, from MSquared Lasers and is currently an OSA Ambassador. She will give a talk about her career in Academia and Industry. Followed by an open discussion with tea, coffee and snacks.
It goes without saying, this would be a great opportunity to come gain some insight and advice about future prospects.
ABSTRACT:
"For some the career choice after a research degree or a few years as a postdoc is a clear-cut decision. But for many the options aren't clear and the reality of non-academic careers can seem a mystery. In this talk, I reflect on some of my own experiences and those of my peers in an attempt give some insight into a selection of career paths. Finally, I'll share some resources and tips that I've found useful in my own job searches."
See you all soon,
SCOPE