SCOPE Event: "Pro-tips for starting your PhD" [1/11/2022]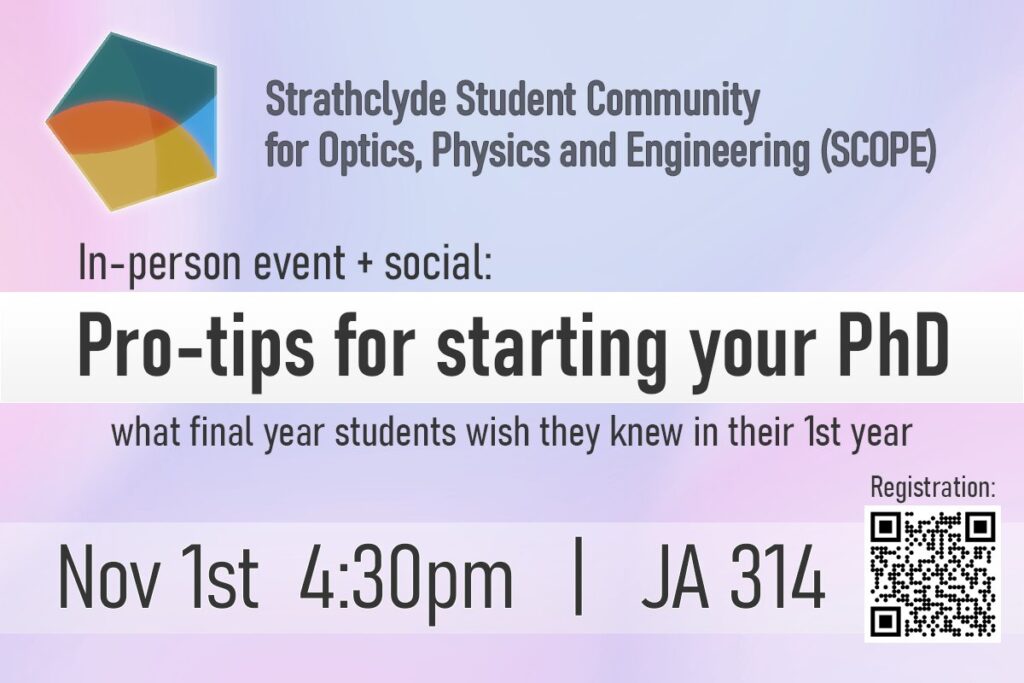 Have you recently started your PhD?
Would you like to hear some PhD tips from final year PGR students & supervisors in a casual setting?
Or have some free pizza and meet other physics and engineering students?
If you answered 'yes' at least once, make sure to join us for our upcoming in-person event.
It takes place on Nov 1st in John Anderson building, room JA314, from 4:30pm.
After the talks, there will be a casual social in John Anderson common room, with pizza and snacks provided by SCOPE.
Everyone is welcome to join!
Speakers:
Dr David McKee: "The Supervisor's Perspective"
A PhD project involves both the student and the supervisor establishing a new working relationship – an inherently risky business for both sides. It's great when everything works out well and can be a disaster when it doesn't. 3-4 years is a major commitment on both sides, so it pays to think carefully about what is involved and how you are going to deal with each other over that time period. After a distressingly long time working in the University, including as both and UG and PG student, I have seen my fair share of good times and disasters. I will try to pass on some of that experience and hopefully some of it might be interesting / useful / entertaining. Fingers crossed!
Emma Le Francois: "A PhD journey – tips I wished I knew to organise my work and some good experiences and advice for you"
A PhD is a long journey that you undertake as part of a research team, you will not be alone! As you go along you will have support from your supervisors, colleagues, and friends – don't hesitate to brainstorm ideas or discuss doubts with them so that you can share some of the pressure a PhD implies. A PhD teaches you how to take on and run a research project and I'll share what I wish I knew in advance to enhance my organisation and productivity. To finish I'll share some nice experience and initiative that I'm glad I took during my PhD.
Matěj Hejda: "Tools of the Trade for #PhDlife, v. 2022"
In this short talk, I'd like to provide an overview of some software tools you might have never heard about- yet these might prove as life-saving in your next four years. Having a good strategy for information and data handling from the very start of your PhD will make your work (and life) so much easier, and will pay off as time goes on. I'll show you workflows that work for me, and share few practical tips as well.
Dr Ralf Bauer: "Tips for the PhD – Or what I wished I'd done differently myself (?)"
A PhD encompasses much more than just the subject specific learning and research. Some of the most interesting discoveries for ones PhD and ideas for research progress happen outside the day to day work. And while some of these encounters happen naturally during any PhD, I want to run through some of the situations that I retrospectively found really useful for my PhD journey and things that helped me.