The Fight for Eqaul Rights: Scotlands first female doctor.
Content Warning: Sexism and incredibly outdated beliefs.
Hi everyone! Welcome to our blog series on LGBT Scientists and Engineers, for LGBT History Month.
This week we'll be talking about Sophia Jex-Blake, the first woman to be a practicing medical doctor in Scotland, and one of the first in Britain as a whole. She broke through boundaries to bring medical education to women in Britain, and founded her own medical schools.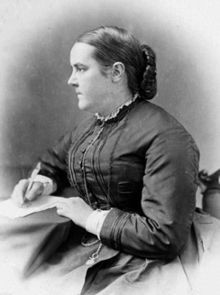 Jex-Blake was born in Hastings, Sussex in January 1840, the daughter of a lawyer. Privately educated, she went on to study at Queen's College London, despite her parent's objections, where she was offered a tutoring position in mathematics. At the time it was unexpected for daughters to earn a salary, and her father refused her to accept one, thus leading her to work without pay. It is argued that this started her life's work in women's rights and education.
In 1861, Jex-Blake travelled around the United States, where co-education, having men and women taught together, was gaining traction, and from this published the work "A visit to some American schools and colleges". During this time, she met Dr Lucy Sewell, a resident doctor in New England, and it was from this that Jex-Blake decided that medicine was her life's calling. Jex-Blake decided to apply for medicine at Harvard, along with Susan Dimock, but both were roundly rejected due to being women. Soon afterwards, the death of her father lead Jex-Blake to return to England, to be with her mother.
Upon her return, Jex-Blake published an essay titled "Medicine as a profession for women" where she argued for equal access for women in medical education, given their "natural instinct" for care. She also had to argue that there was no objective proof that women were less capable than men, which could be easily proven by co-education and having the same examinations. From this, she applied to Edinburgh University to study medicine; while the university Senate voted to let her study, the Court rejected her as it was seen as wasteful to "make the arrangements necessary for one lady". So Jex-Blake found more women who wanted to study medicine, and put in a group application, forming the so-called Edinburgh Seven; this group was accepted in the summer of 1869. These women were Jex-Blake, Mary Anderson, Emily Bovell, Matilda Chaplin, Helen Evans, Edith Pechey, and Isabel Thorne.
The Edinburgh Seven started their studies, and in March 1870, Edith Pechey had managed to earn the top position in a physiology and chemistry exam for a scholarship, the Hope Scholarship.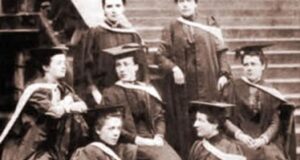 However, the growing resentment against the women by influential medical faculty members and male students meant that the scholarship was awarded to a male student in her place, who received a lower mark. This influence also led to male students being insolent and offensive, and it was reported that "horse laughs and howls" were heard when the women were around.
This sexist resentment grew until November 1870, the day of an anatomy exam. As the Edinburgh Seven approached the exam hall, a crowd of roughly 200 people had gathered, shouting names and throwing mud at the women, and the gate to the exam room had been shut in their face. This happened until a sympathetic student came to open the gate for them and lead them inside. This riot, called the Surgeon's Hall Riots after the place of the exam, lead to national headlines and won the group many supporters.
However, the women were not allowed to graduate, and it was ruled that women who had been awarded degrees should never have been allowed in, and had their degrees withdrawn in 1873. The Edinbrugh Seven had to go to other European universities who were allowing women in; Jex-Blake went to Berne and was awarded her MD in 1877. In the meantime, she established the London School of Medicine for Women, alongside studying and campaigning. The latter resulted in the Medical Act, making medical authorities license everyone, regardless of their gender. Jex-Blake registered in Ireland, the third woman doctor to be registered in the country.
In June 1878, Jex-Blake returned to Edinburgh; this time as its first woman doctor. This allowed women to receive medical attention for a few pence, and in 1885 was expanded to become the first hospital for women staffed entirely by women. This hospital had a lineage to the Bruntsfield Hospital until its closure in 1989. In 1886, Jex-Blake established and taught at the Edinburgh School of Medicine for Women, where after three years, Jex-Blake was sued for damages by Elsie Inglis and other students in 1889, with the former setting up a rival school, the Edinburgh College of Medicine for. Jex-Blake's school was disbanded in 1892, when Edinburgh University finally accepted women as students.
Whilst teaching in Edinburgh, Jex-Blake met her partner, Margaret Todd. The two would stay together for the rest of Jex-Blake's life, January 1912, with Todd writing a book about her lover, 'The Life of Dr Sophia Jex-Blake' in 1918. The University of Edinburgh commemorated Jex-Blake with a plaque by the entrance of the medical school, and The Edinburgh Seven were posthumously rewarded honorary MBChB degrees in July 2019, with their degrees collected by current Edinburgh medical students.
The charity we're highlighting this week is Camfed – the campaign for womens education. They are helping women and girls in sub-Saharan Africa get an education, training young women to help those in schools, and funding teacher training where necessary.